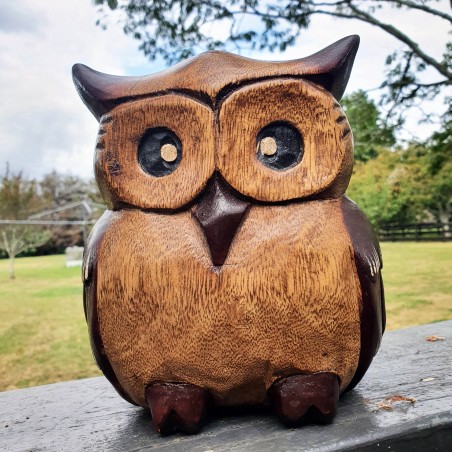  
Fat Owl Power Animal Statue - Hand carved
Reference: SWO-OWL-FAT
This a beautiful hand-carved, 18 cm tall, wooden Owl power animal statue.
This is a perfect size to sit in any room such as the lounge, office or conservatory or as a centre piece in a wall unit. It would also make a perfect greeting ornament on a small table at your front door to welcome visitors into your home. 
Be quick, limited stock.
This particular owl brings its own special additional energy into your home extra to what is written for the owls below. This happy friendly owl brings a very high vibrational form of positive energy into what ever space it is placed in. It brings hope, joy and comfort around and can help those who connect with it to move through challenges, blockages and hard times in life. This particular owl can also bring a very high form of Divine Source energy in to help support someone who is working through depression and/or anxiety.  The energy of the wooden owl brings wisdom and protection into the home. Owl quietly watches over you holding and protecting your space and keeping out lower energy vibrations. Owl helps to tone down confrontational energy in the home and helps to maintain a calm peaceful environment. Owl helps to deepen your connection with nature, which in turn opens a link to the higher energies and higher wisdom of Source. Through the power animal of the owl and the open connection Owl brings through from Source, true and deep messages, guidance and energetic support can be received from all who come around it. 
Owl stands guard and brings protection around whoever feels drawn to or connects with the animal. Owl energy can also be helpful in a bedroom to help those in the bedroom to feel safe and protected when they sleep. Owls calming energy can help someone to go into a deeper sleep and to be able to sleep soundly through the night. This larger owl would be a great friend for a child to have in their room to keep them company and to help look after and protect them. 
On a deeper personal level, Owl watches and observes and helps you to see the truth and reality of a situation through the eyes of deeper wisdom and without emotional judgement.
It is through the inner wisdom of owl that you are able to then make informed positive choices and decisions with your life. 

Due to the weight and cost of shipping this item we have put a pick up only option. If however you would like to have this item shipped at your own extra cost please contact us before purchasing and we will be able to give you an estimated quote of extra shipping costs involved. Please contact us at 027 2169 369 if you are interested in purchasing more than 1 of these owls, as stock is very limited and the statues may not be available anymore from our importer.  
We are also able to get these owls in a smaller approx. 19 cm size. See our other listings. 
Data sheet
Dimensions (approx.):

Height: 18 cm, Width: 15cm

Country of origin:

Thailand

Material:

Sustainable Wood (Hand Carved)
4 other products in the same category: