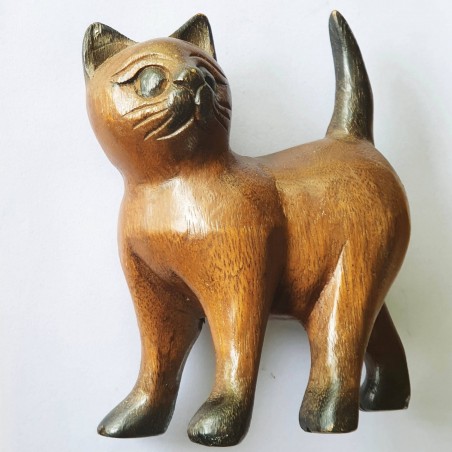  
Cat Power Animal Statue - Hand carved
Reference: MWO-CAT-MX
This a beautiful hand-carved, 15 cm tall, wooden Cat power animal statue.
This beautiful wooden cat brings the soothing energy of nurturing and love around you. It helps you to find the deeper happiness within and to go with the flow of life. Cat as a Power animal helps you to adapt to new situations in a cautious but positive manner. The cat energy also helps those who need help to be independent and stand in their own light and power. It helps you to see and feel the inner beauty of your true soul being and shine it in the world. The cat energy brings energy of forgiveness and compassion and opens up the heart to give and receive love and understanding. The cat brings qualities of resourcefulness to be able to find and use the resources which are already around you to survive and move forward. The cat energy helps you to learn from your mistakes and stand up and try again and not give up. It helps you to know when to be seen and speak up and when to sit quietly in the shadows and observe a situation before taking action. The cat energy also helps with sleep issues and will help you to calm the mind and body, relax and go into a rest or sleep state. For those in harsh situations of high alert the cat power animal energy will help you to be able to rest and sleep while still remaining alert intuitively for any changes in the environment which signals caution or danger. 
Hand carved out of Mango Wood.
Data sheet
Dimensions (approx.):

Height 15 cm, Length: 14 cm, Width: 7 cm (approx.)

Country of origin:

Thailand

Material:

Mango Wood (hand carved)
4 other products in the same category: