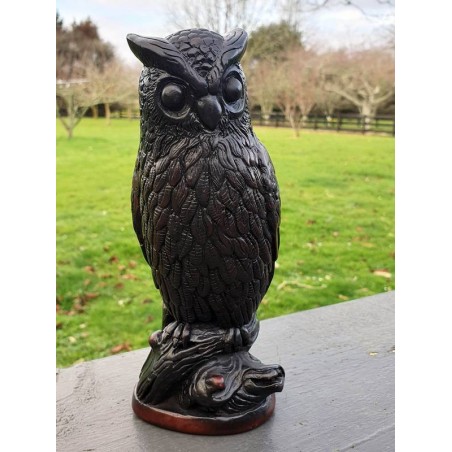  
Tall Owl Power Animal Statue - Hand-carved natural resin
Reference: RES-OWL-MX
This a beautiful hand-carved, 20 cm tall, natural resin Owl power animal statue.
This is a perfect size to fit on a bedside cabinet, coffee table or wall unit.

The energy of the owl helps to deepen your connection with nature, which in turn opens a link to the higher energies of Source. Through the power animal of the owl and the open connection with Source, true messages, guidance and energetic support can be received.
Owl stands guard and brings protection around whoever feels drawn to or connects with the animal.
The owl watches and observes and helps you to see the truth and reality of a situation without emotional judgement.
It is through the inner wisdom of owl that you are able to then make informed positive choices and decisions with your life. 
This particular hand-crafted natural resin owl brings in a higher strength to heighten its higher qualities of guidance, protection and inner wisdom. It brings strength and the courage needed to stand on your path and claim your place in the world.
This owl is hand-crafted out of natural resin.
Data sheet
Dimensions (approx.):

Height 20 cm, Width: 5 by 6 cm

Photo's are of:

Similar item.

Material:

Natural Resin (hand-carved)
4 other products in the same category: