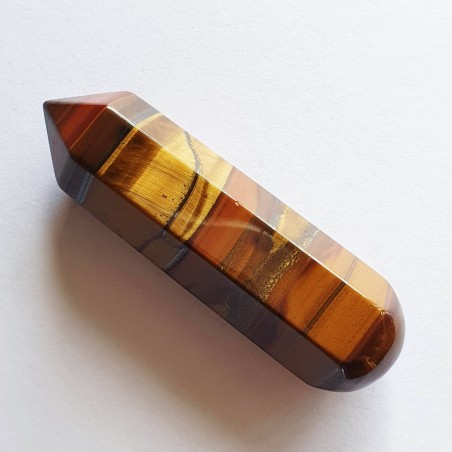  
Banded Tiger's Eye Wand - 7.5cm
Reference: BTIG-WAND-3
The Banded Tigers Eye brings a deep rich grounding energy through which helps to ground the soul in the physical body and the physical body on Earth. The banded Tigers Eye brings strong powerful courage and strength to face challenges in life and push through times of struggle.  Its energy helps you to stand fully in your Power and shine your strength and  light into the world. This is a crystal of confidence and pride and helps keep the ego in balance and in harmony with Divine flow. The banded Tigers eye can help bring confidence and strong focus when needed and is a great crystal to have in important meetings and can bring powerful support for situations such as exams, presentations and driving tests etc.  This is a great nurturing crystal for someone who needs to stand their ground in life and make bold adventurous choices to move forward in a career or new life path. This is a powerful healing crystal in that it brings up any deep layers of healing which are ready for clearing in a safe nurturing way and helps you to acknowledge them and bring healing and release to them so you can move on from a soul level and physical level. This is a great crystal for dealing with deep grief, heart ache or when over coming deep or long term illness. The deep Earth grounding you receive through this particular crystal can also help to support someone who is fighting a strong illness such as cancer or other deep illnesses which can be life threatening. It will help that person to gain extra strength from the Deep Earth energy and will help bring courage and stamina to work through the illness in harmony with Divine Plan and their own Divine Journey. 
The Wand shape is a very gentle nurturing shape which works to bring through the qualities of the crystal in a Deep and Divine nurturing way. This shape of crystal allows people who are feeling very fragile, vulnerable or depleted in energy, due to illness or severe trauma to be able to help themselves with the crystal energy without becoming overwhelmed by the power which comes through the crystal. This is a lovely shaped crystal to have by the bed if you experience sleep issues such as insomnia or night terrors, as the wands gentle energy nurtures the space you are in and brings soft nurturing energy through and around you to help you to fall into a deep calm peaceful sleep. This shape also brings the sense of feeling safe at night and while you sleep as it softly watches over you and brings quiet protection from Source through for you.
Data sheet
Weight:

61g

Dimensions (approx.):

Length 75mm. Diameter at widest Point End 19 mm

Comes with:

- Luxury blue velvet gift bag.

Photo's are of:

Actual item.
4 other products in the same category: