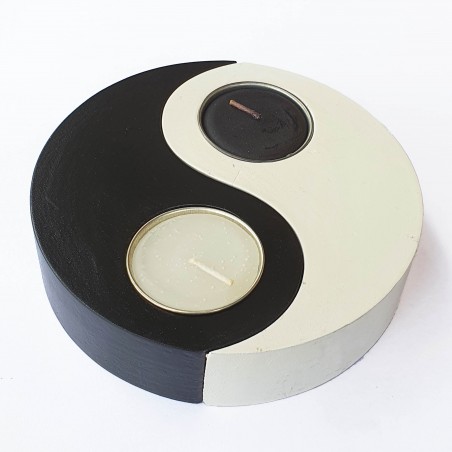  
Wooden Circle Yin Yang Candle Holder
Reference: SWO-CAN-CIRC-X
Tea light candle holder in the Ying Yang design with the circle of the Divine Infinity.
It is hand-made, carved from sustainable wood and hand painted in black and white
This candle holder is made up of 2 pieces.
This candle holder helps to bring a balanced, centred and grounding energy into your home. The Ying Yang symbol brings a strong energy of harmony in to a space and helps to balance all aspects of the physical and spiritual bodies. It calms and soothes and the balance of black and white colour vibrations come together to clear any negative energies which you have collected during the day and rebalances and re energises the physical body and the aura so you can rest fully and rejuvenate for the next day. Lighting the candle in the lounge during the evening can help calm the body and the mind down enough to support a good nights sleep. Note: Never leave the candle burning while you are sleeping. Placing the candle set next to the bed will still help to support you Spiritually and energetically during the night without needing to be lit. The candle only amplifies the energies and healing qualities which come through the set and an unlit candle will work just as well when you are in an open sleep state. 
This set comes with one black candle and one white candle. As black Tea Light candles are difficult to replace in New Zealand we suggest the black candle which comes with the set be used for decoration when the set is not being lit and to use the easily found white candles when lighting the set. The energy from the set as a whole when lit does not change significantly with the colour of the candles used. These candle holders also fit beautifully at the edge of modern bath tubs, creating a nice relaxing reflective light as you soak.
This set is also perfect to create the right amount of lighting for meditation.   
Data sheet
Dimensions (approx.):

Diameter 13cm x Height 3.5cm

Photo's are of:

Similar item.

Material:

Sustainable wood
4 other products in the same category: