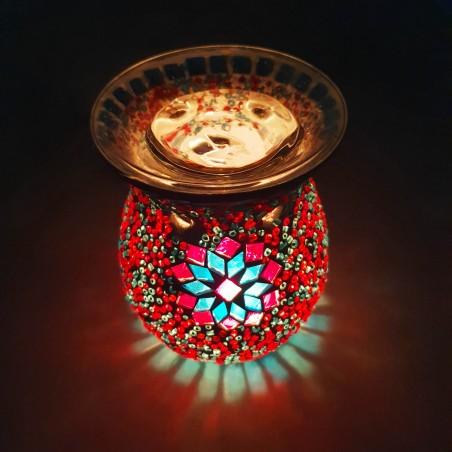  
Oil Burner - Hand-Crafted
Reference: MOS-OIL-3
This oil burner has a hand-crafted pattern made up of red and blue stained glass tiles and beads.

As the light shines through the coloured stained glass tiles and beads, it activates the higher vibrational energy brought through the red and blue colours. The colour vibrations of this oil burner come together to help you to be able to express your true passion in the world. Therefore if you are working hard towards opening your goals and dreams the energy of using this oil burner will help to bring power and strength to your work and can bring the right energies around you for manifestation of your dream. The colour energies of this oil burner can be helpful to quieten the mind for people with mild anxiety problems. This also brings the energies in which can help deceased loved ones to be able to communicate come around you and communicate through messages and or feelings. The ambience of the light of the burner connects through your love for them and expresses the love energy to them. The colour energies of this burner can also send loving energy to those who are still living but who are absent in your life at this time. This is the oil burner to use for communication, passion, achieving goals and dreams and for manifestation. 
This oil burner comes with a tea light candle. Oils are not included.
Data sheet
Dimensions (approx.):

Heigth: 140 mm

Diameter (approx.):

105 mm

Comes with:

- Small candle.

Photo's are of:

Actual item.

Country of origin:

Turkey

Material:

Stained Glass Mosaic, Hand-Crafted
You might also like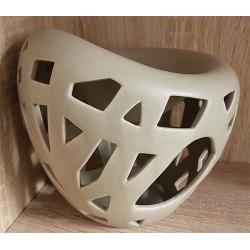 4 other products in the same category: