 
Oil Burner - Hand-Crafted
Reference: MOS-OIL-1
This romantic oil burner has a hand-crafted pattern made up of red and blue stained glass tiles and beads.

As the light shines through the coloured stained glass tiles and beads, it activates the higher vibrational energy brought through the pink and purple colours. The activation of the higher vibration of these colours allows healing energy from Source to come around you.
The colours of this oil burner are very soothing and effective, especially for people who are suffering from minor illness, for example flu symptoms, head aches, etc.
The energy of this oil burner has a healing effect.
This oil burner comes with a tea light candle. Please note that oils are not included.
Data sheet
Dimensions (approx.):

Heigth: 140 mm

Diameter (approx.):

105 mm

Comes with:

- Small candle.

Photo's are of:

Actual item.

Country of origin:

Turkey

Material:

Stained Glass Mosaic, Hand-Crafted
You might also like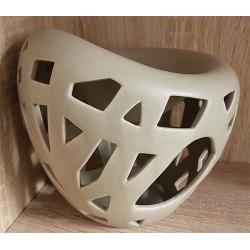 4 other products in the same category: