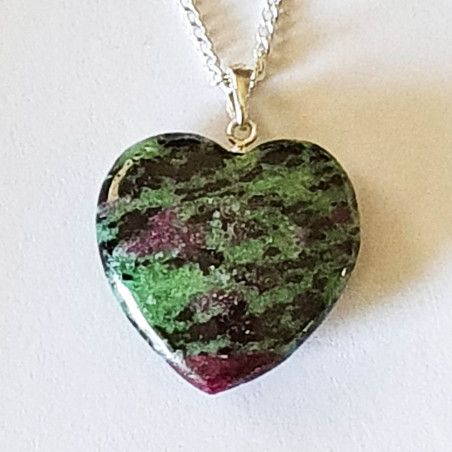  
Ruby Zoisite Heart Pendant - Sterling Silver
Reference: RZO-HP-1
This Ruby Zoisite heart-shaped pendant comes with a 20" (50.8 cm long) 925 Sterling Silver 2 mm chain necklace, which can be made shorter if you wish.

This crystal takes you deep within the human and soul being and helps you to find and connect with who you really are and what you are here for on earth. The Ruby Zoisite helps you to connect with the depth of inner presence of the soul and bring that strongly through the human form so the soul becomes in charge of your journey and opens a deeper more meaningful and higher divine path and journey for you in life. The energy of this crystal helps to bring a deeper flow and sense of your true direction in life and helps if you feel lost or unsure of your own journey. The deep nurturing energy of the crystal helps those who have been abandoned, neglected or abused in life to feel loved on a deeper level from Divine and find the inner strength and wisdom within to turn your life around and take control of your journey and open in all the success of your true potential in the world. The depth of the Ruby Zoisite brings deep healing and clearing so you can let go of anything from the past that is affecting you or holding you back and open new powerful, strong horizons ahead. The Ruby Zoisite helps you to express fully who you are as a powerful positive soul being in the world and feel and follow your true divine purpose on Earth. This is also a crystal of new growth and fertility and can bring rebirth to old tired relationships and situations in life and help with the conception and birthing of new ideas, opportunities or bringing a new life into the world. 
Heart shape pendant: 
The shape of the pendants create different energies depending on what shape they are. The qualities and gifts the crystals bring are similar but the shape helps to determine the strength of the energy from the crystal and also how the gifts and qualities are taken into your body energetically. 
The heart shape of this crystal helps to bring the qualities of the crystal through the heart in a very gentle nurturing way and work most effectively over a period of time. This shape is also good for regulating the strength of the healing qualities the crystal brings to ensure that the healing received through these crystals is subtle and not too overwhelming.
Jewellery is an effective way to be able to fully receive the beneficial healing qualities of the crystals through wearing them in a fashionable way. Wearing the crystals continuously enables you to form a deeper connection with your crystal, allowing it to adapt its qualities to work with you on a more personal level. As you develop your relationship with your crystal over time, it will learn to adjust the qualities you receive from it, to bring you the greatest support possible with healing processes and in your spiritual growth and development. People who wear their crystals and build this relationship with them, often feel a loving, nurturing and supporting vibration from the crystal, helping them to cope with challenging situations.
Data sheet
Dimensions (approx.):

25 mm x 25 mm x 6 mm

Comes with:

- 20" (50.8 cm long) 925 Sterling silver 2 mm chain necklace (can be shortened if desired).
- Luxury blue velvet gift bag.

Photo's are of:

Actual item.
Product customization
Don't forget to save your customization to be able to add to cart
4 other products in the same category: