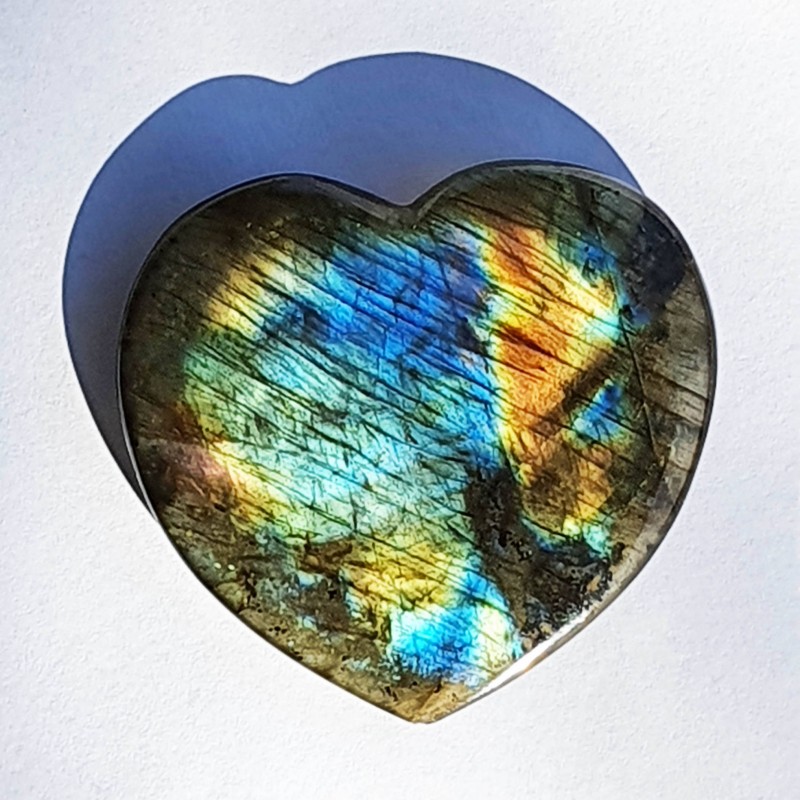  
Labradorite Heart
Reference: LAB-HRT-1
This Labradorite crystal has a very deep but also very high vibration. It helps you to be able to allow yourself to safely move energetically out of your physical body and experience the higher power of the Universe. From this higher perspective you will be supported in receiving Divine Guidance and Messages to help make choices and decisions in your life, which brings your path into alignment with the Divine Plan and your Soul Purpose. This piece also helps to connect your soul through your physical body to Source and to hold that connection so you can operate and live on a higher, more effective vibration.
This particular Labradorite Heart brings strong and powerful healing energy for any heart issues you  may be struggling to let go of and heal. This heart helps to bring the highest healing energy from source through so you can heal the hurt and move on with hope and trust again. This heart will also help with bringing healing for immense grief in the loss of a loved one and is especially strong to help someone in the loss of a child. The high vibration of this crystal opens a strong Divine Loving connection between the person left behind and the loved one on the other side so both can feel each other and communicate and heal energetically any situations left unfinished in the frequency of Higher Divine Love. This Labradorite heart also opens up a channel of the highest loving energy so both the loved one in spirit those left behind, can give and receive love from each other to support the grieving process and to help to move on knowing their loved one is safe and still with them in their heart and in spirit. 
The heart shape of the crystal helps your energy to drop down from the mind into the heart and open up into a state of presence. From this space inner wisdom, unconditional love, self-love and forgiveness can be accessed and brought out into the world to support your path and the path of those around you.
Because the heart shape helps to open you fully to your inner being, the qualities of the particular heart-shape crystal you have chosen, can be fully integrated through the physical and spiritual bodies, deepening and enhancing the effects of the healing qualities they bring.
Data sheet
Dimensions (approx.):

50mm x 46mm x 8mm

Comes with:

- Luxury blue velvet gift bag.

Photo's are of:

Actual item.
9 other products in the same category: